Alex Absalom & Doug Paul – MC Starter Kit: The 'ESSENTIAL' Plan
Whether you're a medium-sized church, small church or someone looking to a Missional Community yourself, this will deliver the goods.

The ESSENTIAL PLAN of the MC er Kit can take people who know nothing about Missional Communities all the way to becoming ninja Missional Community leaders who are multiplying MC's and seeing extraordinary spiritual breakthrough. We use a tailored, 7 Step Process (details of this process at the end of this page), using stunning field notes (sent in the mail), videos, a private online community innovation lab and in-person training and coaching days with Alex and Doug. You're not getting something where the learning ends when you need it most. With our innovative learning platform, you have access day-to-day, and month-to-month, as long as it's helpful for where you're at.
If you're a church, buying our er Kit gives you the ability to share this amazing access with all of your church.
(Make sure to check out what some of the leading pastors, practitioners, experts and authors are saying about the MC er Kit at the end of this page!)
THE ESSENTIAL ER KIT INCLUDES: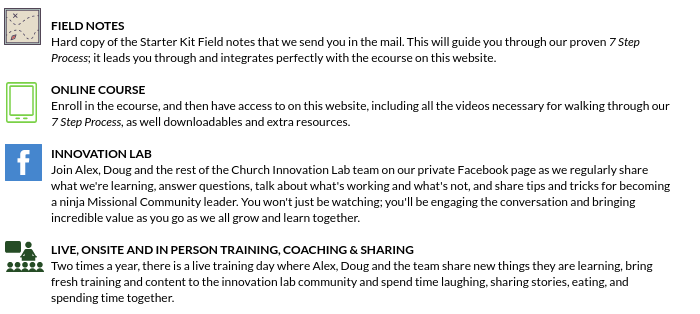 IT DOES NOT INCLUDE:

The ESSENTIAL PLAN is a $497 annual charge, or a monthly change of $53. To see more about the PRO PLAN click here, or you can click here for the CUSTOM PLAN.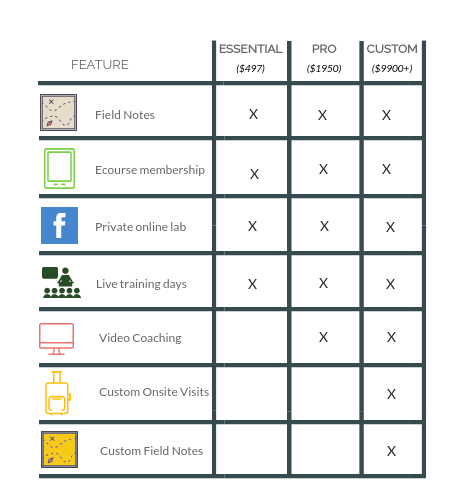 The ESSENTIAL PLAN automatically comes with 4 hard copies of our Field Notes (which people LOVE, btw). It pairs so well with what's happening online. After you get into it, if you'd like to purchase more copies, there's an easy way to do that.
ENDORSEMENTS
"Doug and Alex are some of the best missional practitioners I know. A rare combination of theology, skill and experience, their hearts for the kingdom and empowering leaders in their own context is a gift to the larger church"
-Jon Tyson, Church of the City NYC, Author, City Collective
"Many people have been waiting for something to come along that would give them access to expert trainers on developing missional communities at a price-point any church can afford. This resource will help you move from theory to practice in order to finally experience missional breakthrough in your church, I highly recommend the MC er Kit by my good friends and colleagues Doug and Alex.
-Alan Hirsch, award winning author of numerous books on missional church, and founder of Forge and 100Movements.
"Finally! A simple and fantastic resource for the small church pastor who has a passion to help his people make disciples who make disciples. You are getting the best of the best consulting with Alex and Doug on a small church budget. These guys give a simple, practical, and proven strategy to help your people adopt a more missional approach to reaching your city. 100% recommended!"
-Rob Wetzel, National Director, Liberty Church Network
"While the concept of missional is simple, helping existing churches develop and multiply Missional Communities is one of the toughest challenges of our time. Alex and Doug are experienced missional practitioners and have worked with countless churches to help them make the leap in their congregations. Their approach takes biblically based and tested principles to help churches engage in a realistic process to launch Missional Communities."
-Rev. Dr. Dana S. Allin, Synod Executive, ECO: A Covenant Order of Evangelical Presbyterians
"Doug and Alex walk the walk. They are grounded, humble, battle-hardened and wise practitioners. This resource has come through many hours of effort on the field and is now expertly distilled down for us as leaders to engage, be inspired and challenged and move towards growth. Their resources and coaching will help any leader gain clarity and momentum, in order to move deeper and go further in leadership.
-Rich Robinson, Director, 5QCollective
"Having walked the journey of moving a church down the missional path . . . I wish this resource had been available! I don't know of two better people from whom to learn about all things missional than Alex and Doug. Don't pass on this GREAT offer."
-Greg Nettle, President, Stadia Church Planting
"Alex and Doug have both been an encouragement and challenge to me as I practice missional community in my own life and lead others to do the same. The er Kit is a significant help to those who are wanting to practically lead effective and flourishing missional communities over time. I'd strongly encourage you to take advantage of it!"
-Dr. Todd Engstrom, Executive Pastor of Ministry Strategies, The Austin Stone Community Church
"I think this will prove to be a revolutionary new way to equip, train and release pastors, churches and all the people of God to live into the kind of spiritual family the churches created for. It's giving access to everyone at a price point that finally works."
– Dave Rhodes, Pastor of Movement Initiatives and Discipleship, Grace Church, ATL. Founder of Younique and former US Team Lead of 3DM
Your Instructor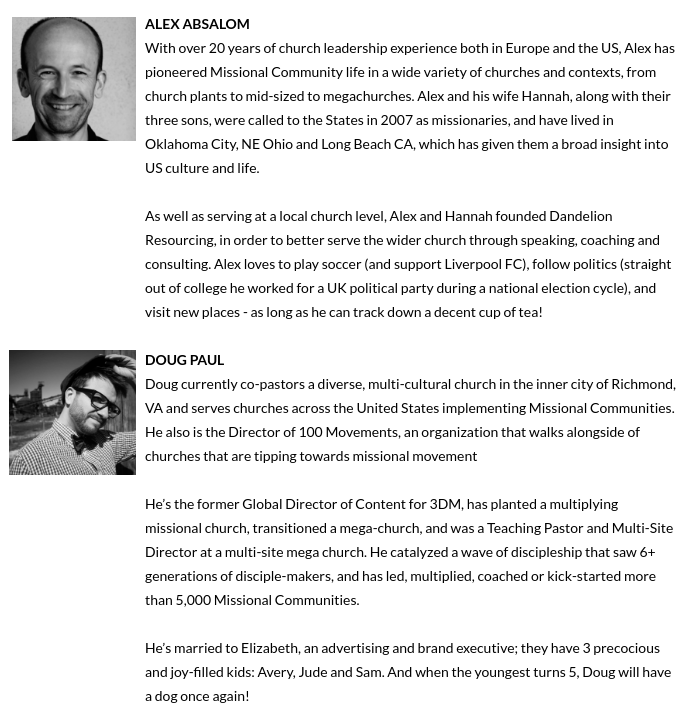 Course Curriculum
Mailing Address to send your Field Notes
Submit your physical mailing address
Purchase additional 'Field Notes'Pastor Instructions

Download the "Pastor Instructions" in this PDF

INTRODUCTION: Things to know before we begin

WATCH THIS VIDEO FIRST! (3:22)

Step 1: Intro to Missional Communities

UNIT 1: Listening to God's Heartbeat (2:50)
UNIT 2: Wait! This Groups Sounds Gigantic! (2:30)
UNIT 3: The One Big Secret (3:50)

Step 2: Essentials of Missional Communities

UNIT 1: Principle 1 – Mission Vision (2:42)
UNIT 2: Principle 2 – Up In Out | Principle 3 – Repeatable Rhythms (11:18)
UNIT 3: Principle 4 – Person of Peace (14:16)
UNIT 4: Principle 5 – Social Context (14:45)

Step 3: Finalize your Mission Vision

UNIT 1: Mission Vision is the Silver Bullet (2:38)
UNIT 2: More on Mission Vision
UNIT 3: One Of | The Principle of the White Field (12:52)
UNIT 4: Nailing Your Mission Vision

Step 4: Decide Your Rhythms…and Launch!

UNIT 1: Overview of Organized and Organic (3:03)
UNIT 2: The Organized Leader | The Organic Leader (7:54)
UNIT 3: Setting Your Repeatable Rhythm

Step 5: Growing your Missional Community

UNIT 1: The 5 Pools of MC Growth | Belong, Believe, Behave (12:47)
UNIT 2: The Accordion Strategy | Being Naturally Supernatural (7:52)
UNIT 3: Creating a Growth Plan

Step 6: Six Biggest Speed Bumps

UNIT 1: Speed Bump #1 – Kids | Speed Bump #2 – Setup, Meal and Cleanup | + MC Recipe Book (10:17)
UNIT 2: Speed Bump #3 – Trying to Replicate Big Church | Speed Bump #4 – Toxic Inward Focus (TIF) (4:11)
UNIT 3: Speed Bump #5 – Apprenticing | Speed Bump #6 – Multiplication (10:01)

Step 7: Learning the Craft of Leading a Missional Community

UNIT 1: UP – Prayer | Prayer Walking | Bible | Worship (22:40)
UNIT 2: IN – Oneanothering | Disciples Who Make Disciples | Kick Disciple-Making (7:09)
UNIT 3: OUT – How to Grow a Group into 20-50+ Size (3:48)
UNIT 4: LEADERSHIP – Leader's Primary Role | How to Debrief | Leader Meetings (11:34)
UNIT 5: MISC – Can You Transition a Small Group? (2 videos) | Money | Pastoral Care Boundaries (17:09)